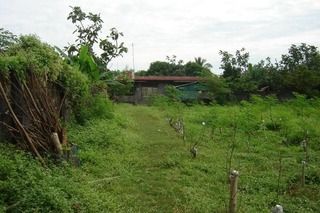 Just the picture that welcomed me back, after I summoned the courage to visit the field again in November 16. After much research from the farming forums, I went back with all organic sprays and tools to remedy the yellowing of the leaves.
Not much problem anymore since the yellowing has stopped since we've treated them initially with sulfate. What gives me a headache, you might guess, is the weeds that have grown all over the place due to neglect and lack of time when my hubby was busy assisting a family friend during the baranggay elections. Actually, that picture above reads "I can do all things through Christ who strengthens me." Ha-ha! Indeed it's true! I could not imagine how I can get these things done, yet we'll be almost done - fingers crossed and hoping there won't be any rain during the afternoon.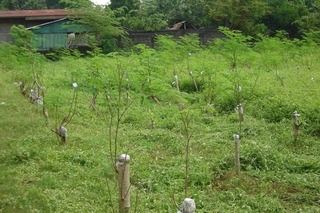 Malunggay Propagation - Malunggay Pods

It has been a long while since I spent some time here at the malunggay farm. I was busy with the household chores at home and the usual online things I work on. The trees did not need that much caring these days, so I opted to just attend to usual daily stuff more than visiting the place. As you may see, these malunggay trees were left to their own devices. Not even an ounce of water except maybe from what they get from the morning dew. Yet, to my amazement, the dry season lately made them produce more flowers and more pods!
Malunggay Farm Developments - Moringa Flower

Surprising developments on our malunggay farm indeed! Due to the recent dry spell, I was impressed when I passed by one morning to find out that the moringa trees blossomed and produced fruits! Yes, I was moved that much because these moringa plants mean a lot to us.
Sharing photos....
Moringa flowers can be harvested after the 8th month of propagation. The tender flowers are better, of best choice. The flowers can be taken as tea. The flowers can also be fried and added to soup or scrambled eggs. Yes, we've tried a recipe and they have a taste similar to mushrooms with a hint of nutty flavor. From the moringa flower you can obtain both potassium and calcium.